Occupational Health and Safety (OHS) Overview 
Interactions between human, work processes, instrumentation, material and work environment in any occupation as well as public area could affect someone's health and safety. Potential risk arising from those interactions need to be assessed and controlled to gain positive benefits and minimize the risk. Thus, OHS as multidisciplinary approach provide scientific knowledge and practice in anticipating, recognizing, evaluating and controlling variety of hazards arising in or from the workplace that could impair the health and well-being of the workers, taking into account the possible impact on the surrounding communities and the general environment (Alli, B.O., 2008).
There are at least three reasons why OHS need to be implemented in any occupation, which are:
Protection of life and health at work is workers' fundamental right
Legal aspect – Governments' and Employers' responsibility to ensure that working environment is safe and healthy
Economical aspect – To prevent loss caused by workers injury and illness; damaged assets, negative reputation from community, etc.
Scope of OHS
As mentioned by HASPA (2012):
"Work impacts on the safety and health of humans who work in organisations. Organisations are influenced by the socio-political context. Organisations may be considered a system which may contain hazards which must be under control to minimise risk. This can be achieved by understanding models causation for safety and for health which will result in improvement in the safety and health of people at work. The OHS professional applies professional practice to influence the organisation to being about this improvement"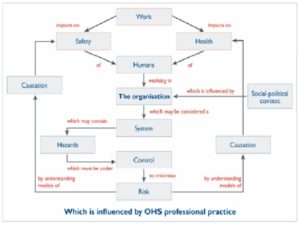 Global Challenges on OHS in Industry 4.0
This Fourth Industrial Revolution is, however, fundamentally different. It is characterized by a range of new technologies that are fusing the physical, digital and biological worlds, impacting all disciplines, economies and industries, and even challenging ideas about what it means to be human.
However, Schwab also has grave concerns: that organizations might be unable to adapt; governments could fail to employ and regulate new technologies to capture their benefits; shifting power will create important new security concerns; inequality may grow; and societies fragment.
"together shape a future that works for all by putting people first, empowering them and constantly reminding ourselves that all of these new technologies are first and foremost tools made by people for people."
Four Challenges OHS in Industry 4.0: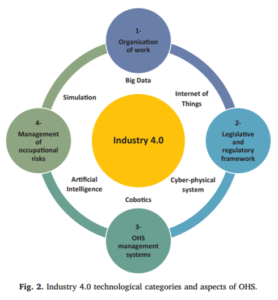 Challenges associated with new organization of work
Legislative and regulatory frameworks are lagging behind
OHS management systems to be re-examined
Rethinking occupational risk management
Badri, et al (2018)
Safety Science 109 (2018) 403–411
Real-time communication, Big Data, human–machine cooperation, remote sensing, monitoring and process control, autonomous equipment and interconnectivity are becoming major assets in modern industry. As the fourth industrial revolution or Industry 4.0 becomes the predominant reality, it will bring new paradigm shifts, which will have an impact on the management of occupational health and safety (OHS).  
 In the midst of this new and accelerating industrial trend, are we giving due consideration to changes in OHS imperatives? Are the OHS consequences of Industry 4.0 being evaluated properly? Do we stand to lose any of the gains made through proactive approaches? Are there rational grounds for major concerns?
 It is clear that if the technologies driving Industry 4.0 are developed in silos and manufacturers' OHS initiatives remain isolated, workplace hazards will multiply during the transition period and some previously improved accident prevention records will be tarnished. Researchers, field experts and industrialists will have to collaborate on the implementation of measures based on a comprehensive vision of managing change in order to ensure a smooth and safe transition to the new paradigm.
Themes & Topics
OCCUPATIONAL HEALTH AND SAFETY (OHS) IMPLEMENTATION IN DEVELOPING COUNTRIES TOWARDS INDUSTRY 4.0
Conference Topics:
Work Organizational Challenges of OHS in Industry 4.0
Legislative And Regulatory Frameworks of OHS in Industry 4.0
OHS Management Systems in Industry 4.0
Occupational Risk Management in Industry 4.0